2014 Spring Pledge Drive
Listener support is what keeps your favorite programs on the air at KCBX.
The 2014 Spring Fundraising Campaign is underway. We'll go live on air with the Spring Pledge Drive on March 24, but why wait? You can help make this the best-ever KCBX fund drive by making an early pledge.
If you make your first-time or renewal gift to KCBX by the end of the day, Sunday, March 23, your name will automatically be entered in a drawing for an Apple iPad Air.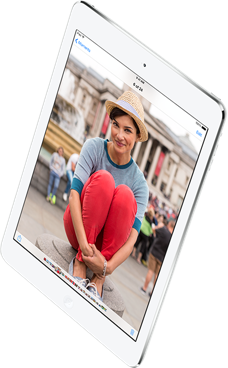 It's Apple's newest, lightest and most advanced tablet with enhanced Retina display, 16GB of storage, built-in WiFi connectivity and access to thousands of useful apps.
You can use the iPad as a book, magazine and newspaper reader, listen to KCBX's online program streams, watch movies and TV shows, connect with other Apple users through Facetime, send and receive e-mails, browse the Internet, take pictures and videos, play games, and tap into the power of over 475,000 apps available at Apple's iStore.
We'll be randomly selecting a winner of the iPad from all the entries received by the end of the day, March 23, 2014. The easiest way to enter the drawing is by making your renewal pledge by the deadline. Your name will be entered automatically.*
Get the Spring Fund Drive off to a roaring start.
Click here

to make your pledge online right now.
Of course, you can also mail your check to KCBX
4100 Vachell Lane
San Luis Obispo, CA 93401.
Or you can call us at 800-549-8855 Monday through Friday, 8:30 a.m.-5:00 p.m.